The Importance of a Nevada Appeals Court to Business and Trust Development
Date:
Wednesday, August 20, 2014
Location:
Adele's Restaurant - 1112 N Carson Street, Carson City
Speaker:
Justice James W. Hardesty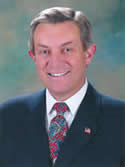 About the program: As part of the election this fall, the voters will be asked to approve an intermediate appeals court. Why does this even matter? How can it benefit our client's as they build their businesses, and in the administration of trusts. Join us as the esteemed Justice Hardesty explains the need behind the proposed appeals court, and how it might affect our clients.
About the speaker: Justice James W. Hardesty was elected to the Supreme Court in 2005, and served as the Chief Judge in 2009. In June 2013, Justice Hardesty was unanimously nominated by his colleagues for William H. Rehnquist Award for Judicial Excellence.
As a District Court Judge and as a Nevada Supreme Court Justice, he has served on various Supreme Court Commissions including: the Nevada Supreme Court Task Force to create a Business Court in Nevada; the Nevada Supreme Court Task Force studying the Multi-Jurisdictional Practice of Law; the Nevada Supreme Court Commission on Judicial Funding; and the Nevada Supreme Court Committee to Implement Recommendations of the Jury Improvement Commission. Justice Hardesty currently co-chairs the Nevada Supreme Court Bench-Bar Committee; the Nevada Supreme Court Access to Justice Commission; and the Commission on Statewide Juvenile Justice Reform. He has also chaired and is currently the vice-chair of the Nevada Legislature's Advisory Commission on the Administration of Justice. Justice Hardesty is a member of the Nevada State-Federal Judicial Council, and he chaired the Council from 2009 thru May 2011.