A Night of Standup Comedy with Sally Mauldin Comedienne
Date:
Tuesday, September 22, 2015
Location:
The Club at ArrowCreek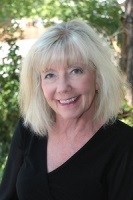 Come join us for a night of fun and laughter for our Annual Estate Planning Council Social Dinner. This is a fun networking event to which you are welcome to bring a guest. This will be a night to remember!
Our entertainment for the night is Sally Mauldin Comedienne.
Sally Mauldin is a retired NASA lawyer turned Comedienne. Meet Sally Mauldin…….
"I wanted to find something to do in my retirement. Since my real passion is making people laugh, I was considering standup comedy. When I told my husband Ed, he said, "But Sal—you're so cute and perky, why not become a Walmart greeter?" I told him, "because I can't stand the intellectual stimulation!" My inspiration is my dad who wrote limericks and other poetry for special occasions. His motto: "Times are tough but it could be VERSE"!

I've studied standup comedy under Kinsie Damon, and most recently, Kat Simmons. My August 2010 debut performance at Reno's Third Street Bar convinced me that this was a passion I wanted to continue.

I have since appeared at Pioneer Underground, Great Basin Brewing Co., Silver Legacy's Catch a Rising Star, Sammy's Showroom at Harrah's, The Club at ArrowCreek, and other venues for private parties and charity fundraisers.

My comedy is self-deprecating, observational, conversational and authentic. I often pick on my husband, Ed, who is a great sport and my best supporter. I love finding what's funny and absurd in every day life. I generally avoid political humor unless it is audience appropriate—and can be both squeaky clean or a little bit edgy. I tailor my humor to the comfort level of my audience—an approach that fits in well with private parties or other special events.

I am especially committed to performing at fundraisers for charitable causes. Giving people a few laughs as a way to lend my support to these efforts is extremely gratifying."